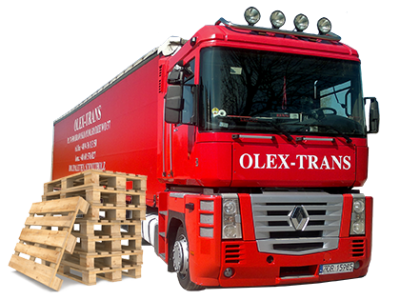 F.W. OLEX-TRANS was established in 1994. Initially it was only a wood processing company for the production of pallets. Since 1998, it has evolved into a company producing wood pallets and different kinds of wood products and it started offering international transport, the pallets trade and the plank trade.
Today F.W. OLEX-TRANS designs and builds pallets and various wood products. Dried pallets and IPPC labeled pallets are not only for Polish customers but also for the clients from European Union. The quality of our goods is really high.
OLEX-TRANS is a well known and respected shipping company in international traffic. We own trucks with transport mass up to 24 tons. All trailers are Tautliner type of 13,62 m length and standard width 2,48 m and  2,70 m-2,85 m height. We deliver goods directly to the customers.
However, OLEX-TRANS has its own transport base and it creates its own group of carriers in international road transport.
OLEX-TRANS is also respected, valuable and reliable shipping company, which respects their customers and business partners and treats them very seriously. We cooperate with many prestigious companies in Europe (DE, NL, BE, FR, CH, PL). The main transport countries are PL→DE→NL→BE→FR ; BE→NL→DE→PL.
Well-trained staff provides timely production and deliveries. People working in the production, transport and shipping are very experienced. They create a companionate team, which understands well the requirements of the market but essentially the needs of its customers.
EDMUND OLESIŃSKI